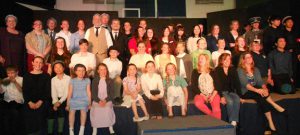 Ten Boom the Musical
"the PERFECT LOVE story"
This wonderful Christian stage play, was presented for the very first time, May 2-3, 2014, by the students and faculty of Grace Christian School (GCS) in Bennington, Vermont. [See Cast photo]
Laurie McCaskill, a dedicated GCS instructor, called us in February 2014 to engage the play as an all-school event to present to the Tri-State community (VT/MA/NY). She hoped "to share the love of Christ through the powerful, often miraculous story of Dutch Holocaust survivor Corrie ten Boom." Laurie  had always loved Corrie ten Boom's true story, and had gone online to find a "short play… something, by or about Corrie's life." She found our Website and called for more information.
Never, since we began working on this project, had I heard deeper conviction from anyone so hoping to reach others for Christ, and sure our musical was exactly what the Lord prescribed. Laurie's deep faith, humility, and genuine heart for others, caused Donna and me to trust GCS to abbreviate the play a bit. Somehow, we had total peace they could do it, and without us coordinating that!
Ten Boom co-writer Donna Marquean Griggs and I, along with my husband Philip Beyer, were able to fly in to see two of the school's three performances. Philip said he was "dumb-founded" after our trip: "If I had not been here to see this for myself, you would never have been able to describe what happened here… the ways God showed His hand in all of it!"
READ ON, and see if you don't agree!
Miraculous Christian Theater
We soon realized, God's hand was in this, from Laurie McCaskill's first phone call, to our return to Nashville. This amazing experience confirmed for us and others that "Ten Boom the Musical" is meant to touch many lives!
Grace Christian School was established in the fall of 1997; the very same time Donna and I began writing the musical. That was just one of many "coincidences" we would discover there.
Over the previous two years, we had contacted many larger churches, Christian university Theater Arts departments, and certain community theaters. Even as the writers, we thought the play was "too big" for smaller venues. However, the Lord had something else (better) in mind to launch our play. Apparently, He wanted to show us what HE could do with a group of truly committed actors and believers in an unexpected, smaller setting. GCS was a total surprise!
Arriving in Bennington VT
We were given an overwhelming welcome, including large baskets in our motel rooms. Those were full of Vermont specialties (maple syrup, apples, candy "moose kisses", etc.). The next day, Joyce Lloyd, school founder/administrator treated us to lunch, after giving us the grand tour of their community of teachers and students. The last stop on the tour would be to see the stage and set for the play. Very exciting moment!
Everyone greeted us with genuine excitement—"You're the ones who wrote the musical!" Handshakes, hugs, thank you's. It was amazing! With each step on the tour, Mrs. Lloyd told us some of the "miraculous" stories of how the school (a wonderfully-converted former Ramada Inn) had come together. Philip smilingly commented to Donna and me, "You two are rock stars!" The entire school—students, teachers, cast, administration people, parents, even people we ran into in shops downtown—made us feel like visiting celebrities. We were humbled and blessed!
Story #1 | Divine Supply
Mrs. Lloyd was educated as a chemistry professor. So, she was happy to discover, the room that had been a bar/lounge in the former Ramada was a perfect place for a chemistry lab. The Problem was, they had no equipment to teach chemistry; couldn't afford it, at that point. But, within the first couple weeks, totally unsolicited, they had received several boxes filled with chemistry/lab equipment and supplies. Another school had heard GCS was starting up and thought they might need the equipment—no charge.
Stories like that had Donna, Philip and me on the verge of tears with each step; so strong was the Spirit in that place. We couldn't wait to see what they were going to do with our play! Over the next two nights, we watched them perform to two packed houses. No professional actors or singers, but people of all ages giving their total heart to a creative, God-honoring performance WE DID NOT EXPECT!  It was stunning, to say the least!
The cast and crew of their presentation (about 60 people) was made up of GCS students, including foreign exchange students from Germany, Korea and China. Also in the cast were some faculty members, and students from the Northeastern Baptist University on the old Ramada's second floor. They followed the directions we had written into the script, pretty closely, and it came together. Honestly, they had taken some creative license that  made us wish we had thought of some of those things ourselves. They put together surprisingly good sets, props and costumes; even their own media and sound effects. They had done some really nice promo, and worked as the most amazingly cohesive team, in one Spirit.
Laurie McCaskill did a great job directing the play, even as she faced personal challenges, at the time.
Story #2 | Divine Coincidence?
Sadly, Laurie's mother was in the last stages of Lou Gehrig's disease; but was being lovingly cared for by Laurie's brother in nearby NY.
The week before the play was to go onstage, Laurie had called her brother and found him reading to their mother. When Laurie asked what he was reading, her brother said, "The Hiding Place, about Corrie ten Boom." Laurie was amazed, as she had not told her brother about presenting our play, prior to that. They were both stunned! Laurie said, hearing that, she felt her decision to do the play had been totally confirmed.
Sunday morning May 4, as Philip and I waited to board our plane to go home, Laurie texted me. Her mother had "died peacefully at 10:30pm Saturday night, just as last night's final performance ended."  Laurie texted further, "Mama's gone home to be with Jesus and Corrie."
More Absolutely Divine Stories
A lovely young German girl, a foreign exchange student, did a fine job of portraying a Nazi guard. We were not allowed to take photos of her in that role, as her sponsors back in Germany might not understand her taking that risk. But, she insisted on playing the part, and protected herself to some degree. For her costume, she wore the red armband inside-out so it wouldn't show the swastika. She certainly didn't let it hinder her performance. When she shouted in German, "ALLE NASEN GEGEN MAUER!  EVERY NOSE TO THE WALL," the whole audience came to attention!  Because of her affiliation with GCS, she became a Christian.
Then there was the Korean boy, also a foreign exchange student, who spoke almost no English. He took on the singing role of a German Nazi youth named "Otto" with a vengeance, so to speak. The young actor's brother, who also had a lead role, spoke better English and had taught his brother the meaning of his lines. Our Korean "Otto" had memorized the English words so he could be in the play. He did a GREAT job… what a trooper!
One young actor was so dedicated to his role as a Nazi captain, he hand-made his own, authentic-looking uniform.
At one point, we visited an art & crafts store called Fiddlehead in downtown Bennington. We met a likeable young man who worked there, who was also a former news reporter. He became very interested in our visit to present our play, and he interviewed/ photographed Donna and me for the store's Website and Facebook page, to help promote the event. Donna and I were able to share our stories with him; I gave him a copy of my book, and we invited him to the play. Before we left the store, he told us he was actually Jewish. He said, "I went through the bar mitzvah, the whole nine yards, but I no longer believe in all that God stuff." Still, when Donna went back the next day to buy a gift, he asked to hear more about her faith, about Corrie, etc. We're praying for him to know his Messiah, Jesus!!
Don't Doubt the Reality of Divine Appointments
There were what we would call other "divine" appointments and uncanny "coincidences" that made our Vermont trip an amazing experience! Moreover, we know now, the Lord is in this musical project, and we're encouraged to go forward. More than ever, we're happy to wait totally on His timing and certainly His choice of venues!
The Bennington newspaper sent two reporters to GCS to interview Donna and me that first day. Funny thing—we picked up the paper at breakfast the next morning and began looking for the article, expecting it would be in the BACK pages. We all laughed when Philip turned the paper over and saw that the story took up the bottom third of the FRONT page. We hadn't expected THAT either!
Everything—every bit of timing for the entire trip, was mind-boggling, including Donna's iffy "stand-by" return flights to Ft Worth, Texas. It was all she had been able to book, but had her set to depart Albany NY airport some FIVE HOURS LATER than Philip's and my flight to Nashville. Long stand-by list, yet Donna was able to change her flight back to Texas, at the last minute.  She departed Albany not only near the same time we did, but landed in Dallas at the exact time Philip and I landed back in Nashville.
We came home with a new commitment, and made some strategic tweaks to the script. Laurie McCaskill's heart for Corrie ten Boom, and a cast of committed young actors in Vermont, made us more sure of how "ten Boom" should be presented. Also, it made us more confident of our original concept.
Exciting New Resolve Back Home
On our return home, we revamped the play's ending, adding a new song, "Imagine/Perfect Love (medley)," making it much more powerful. Actually, it was more in keeping with the integrity of Corrie's remarkable true life story. We also eliminated a few characters and condensed the dialogue some.
"Ten Boom the Musical" has been performed in other places now, but that first-ever production will always be a special memory for Donna and me!
We look forward to seeing what the Lord is going to do with "ten Boom the Musical" in the future, and pray many more churches and venues will see the value of performing it!
We pray that this example of God's involvement in our work will encourage others to know and believe; He is always watching, ever present—He cares about our lives, our work in Him, even in the small details. He does direct our paths.  In Him, ALL things are possible!
You are my hiding place; you will protect me from trouble
And surround me with songs of deliverance.
Psalm 32:7